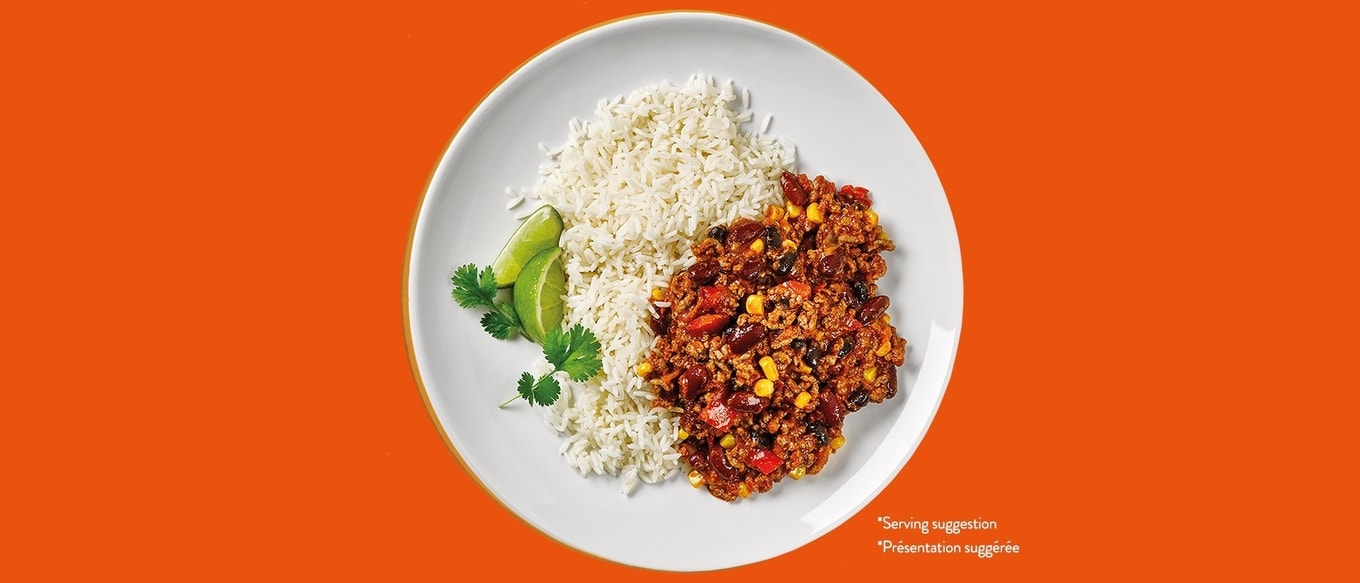 Our chili con carne recipe is loaded with kidney beans and black beans and makes a perfect mid-week dinner for everyone.
INGREDIENTS
2 pouches (each 250 g) BEN'S ORIGINAL™ BISTRO EXPRESS™ CONVERTED™ Brand Rice
450 g (1 lb) Extra-lean minced beef
1 Medium onion, chopped
1 Clove garlic, finely chopped
1 cup (250 mL) Sweetcorn
1 cup (250 mL) cooked Red kidney beans, rinsed and drained
1 cup (250 mL) Black beans, rinsed and drained
1 Medium tomato, seeded and chopped
1 cup (250 mL) Canned chopped tomato
1 Tbsp (15 mL) Chili powder
1 tsp (5 mL) Ground cumin
Lime wedges
Coriander
INSTRUCTION
1

In large saucepan, cook and stir ground beef, onion and garlic together for 5 to 7 minutes or until brown; drain.

2

Stir in remaining ingridients except rice, lime and coriander. Heating to boiling. Cover and simmer 15 to 20 minutes, stirring occasionally, until thick.

3

Meanwhile, heat rice as directed on package. Serve chilli with rice. Garnish with lime wedge and cilantro.
NUTRITION
DESCRIPTION AMOUNT PER SERVING
Calories 526
Carbohydrates (g) 61 g
Dietary Fiber (g) 13 g
Protein (g) 37 g
Sugars (g) 6 g
Total Fat (g) 11 g
Sodium (mg) 570 mg