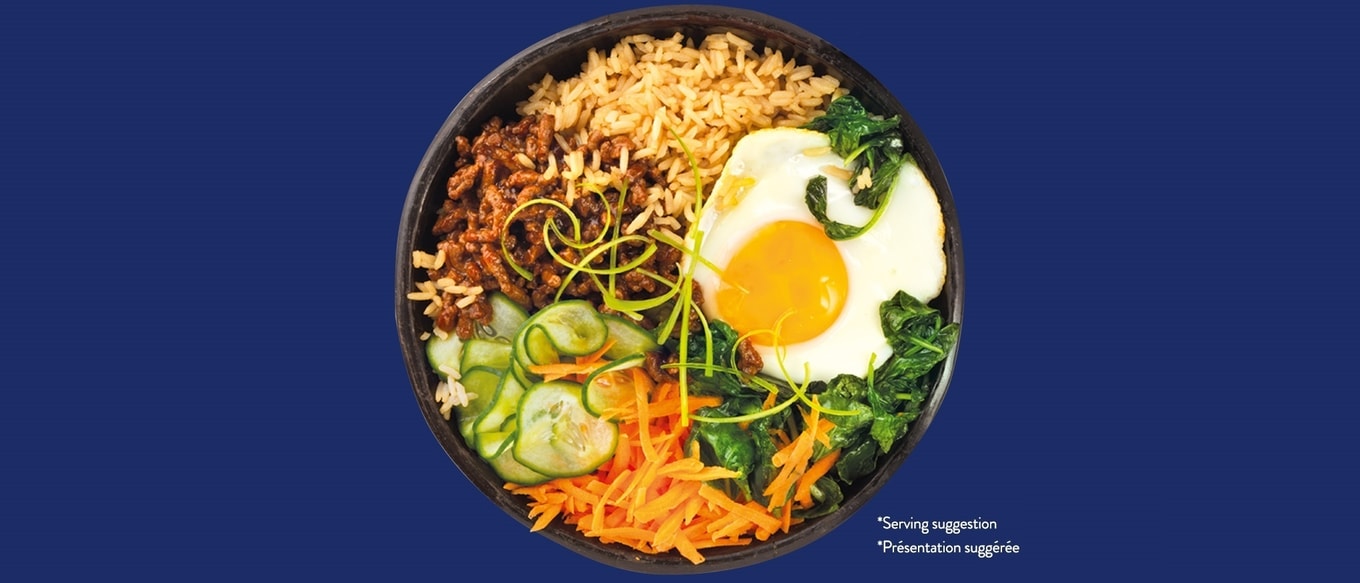 This Korean comfort food is great to construct. Build how you like then mix everything together for a flavour sensation!
INGREDIENTS
1 pouch (250 g) BEN'S ORIGINAL™ BISTRO EXPRESS™ CONVERTED™ Brand Rice
For the Korean Beef:
1 Tbsp (15 mL) Sunflower Oil
175 g (6oz) extra lean Ground Beef
1 Garlic Clove, crushed
1 Tbsp (15 mL) Brown Sugar
1 Tbsp (15 mL) Low sodium soy sauce
1 tsp (5 mL) Dried Chilli Flakes
Pickled Cucumber:
1 cup (250 mL) thinly sliced Cucumber
1 tsp (5 mL) Salt
1 Tbsp (15 mL) White Wine Vinegar
1 Tbsp (15 mL) Sugar
For the Spinach:
3 cups (750 mL) Baby Spinach, washed
1 green Onion, sliced
1 Garlic Clove, minced
1 tsp (5 mL) Sesame Seeds, toasted
Shredded Carrot:
1 Carrot, grated
1 tsp (5 mL) Sesame Oil
2 Eggs
1 green Onion, sliced
INSTRUCTION
1

For the Korean beef: Mix the raw mince with the sauce ingredients and leave to marinade whilst you prepare the other ingredients.

2

For the pickled cucumber: Mix the salt, sugar and vinegar in a bowl until dissolved. Add the sliced cucumber and toss to coat. Set aside for 15 minutes.

3

For the spinach: Bring a small pan of water to the boil. Blanch the spinach for 2 minutes then drain and rinse with cold water immediately to stop the cooking. Add the spring onion, garlic and sesame seeds and stir to combine. Set aside.

4

For the carrot: Mix the carrot with the sesame oil and season with salt and pepper.

5

Meanwhile, place 2 frying pans on a medium to high heat. Add the oil to one and cook the marinated Korean beef for 3-5 minutes until brown and crispy. Fry the eggs in the other pan to your liking (a runny yolk will help sauce the rice).

6

Cook the BEN'S ORIGINAL™ rice according to pack instructions and divide between two bowls. Top with the individual ingredients, finishing with the fried egg and spring onion. Mix it all together and enjoy!
NUTRITION
DESCRIPTION AMOUNT PER SERVING
Calories 510
Carbohydrates (g) 52 g
Dietary Fiber (g) 4 g
Protein (g) 31 g
Sugars (g) 9 g
Total Fat (g) 20 g
Sodium (mg) 560 mg