RECIPE
Taco-Licious Chicken Skillet with Wholegrain Brown Rice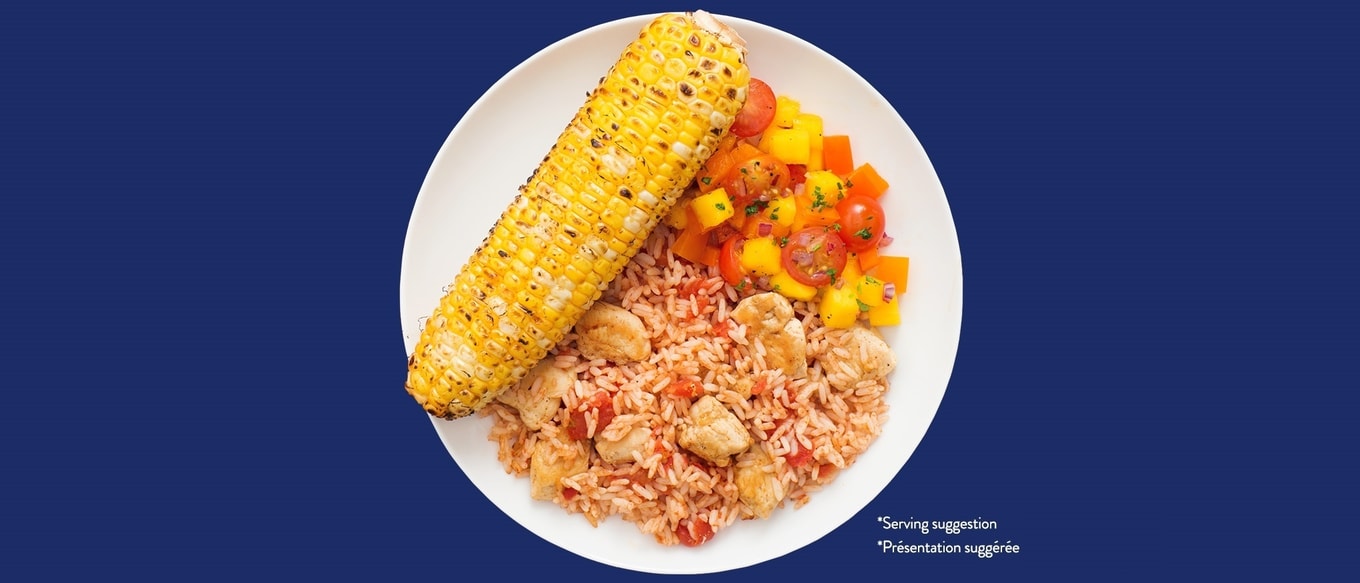 Turn every night into taco night by adding BEN'S ORIGINAL™ Wholegrain brown rice, chicken, shredded Mexican cheese and a few dashes of spice to your skillet. The results? Taco-licious!
INGREDIENTS
3/4 cup (175 mL) BEN'S ORIGINAL™ Wholegrain Brown Rice
2 tsp (10 mL) Olive oil
12 oz (340 g) Boneless skinless chicken breasts, cubed
1 tsp (5 mL) Chili powder
1/2 tsp (2 mL) Ground cumin
1 cup (250 mL) No salt added diced tomatoes
3/4 cup (175 mL) No salt added chicken broth
1/2 cup (125 mL) Shredded Mexican cheese blend
2 Corn cobs, husks and silk removed
2 tsp (10 mL) Olive oil
1 Ripe mango, chopped
1 cup (250 mL) Halved cherry tomatoes
1/2 cup (125 mL) Orange pepper, chopped
1/4 cup (60 mL) Finely chopped red onion
3 Tbsp (45 mL) Lime juice
1 Tbsp (15 mL) Chopped fresh parsley
Pinch salt
Pinch pepper
INSTRUCTION
1

Preheat oven to 425°F (220°C). In skillet, heat oil over medium heat; cook chicken, chili powder and cumin for 5 minutes or until browned. Transfer to plate.

2

Stir diced tomatoes and broth into skillet; bring to boil. Add rice; reduce heat to low. Return chicken to skillet; cover and cook for 20 to 25 minutes or until rice is tender and liquid is absorbed.

3

Sprinkle with cheese. Cover and let stand for 5 minutes.

4

Meanwhile, brush corn evenly with oil; transfer to baking dish. Roast for 12 to 15 minutes or until tender and golden brown in some spots.

5

While corn is roasting, stir together mango, cherry tomatoes, orange pepper, red onion, lime juice, parsley, salt and pepper. Serve with chicken and rice, and roasted corn.
NUTRITION
DESCRIPTION AMOUNT PER SERVING
Calories 450
Carbohydrates (g) 57 g
Dietary Fiber (g) 6 g
Protein (g) 30 g
Total Fat (g) 12 g