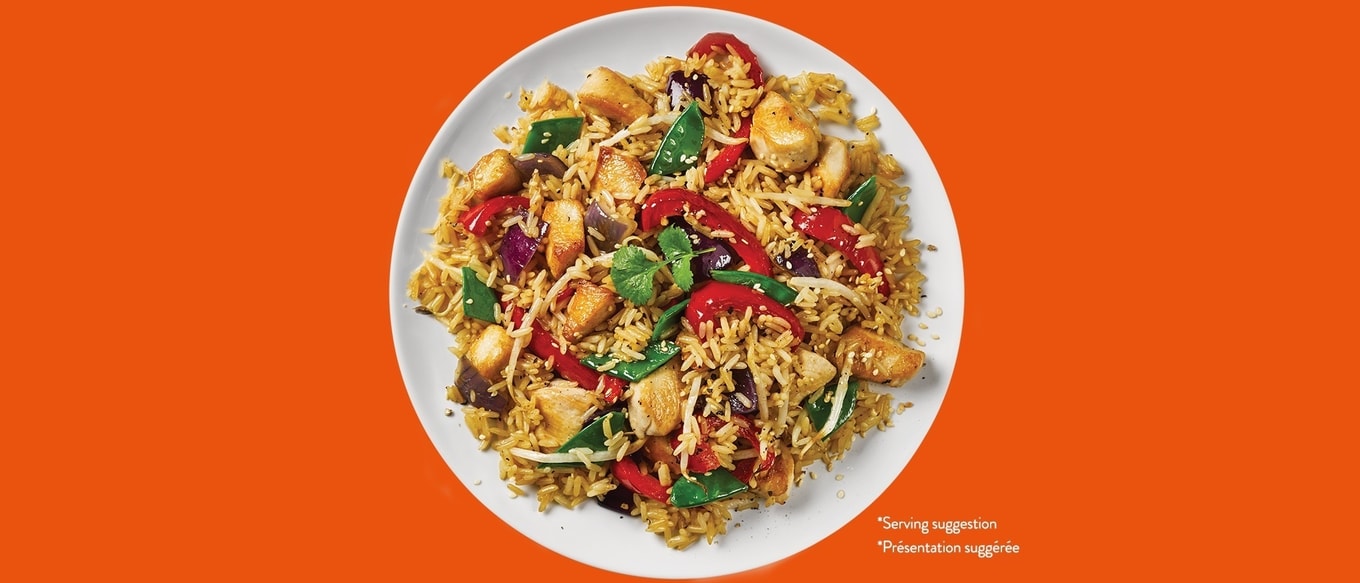 You can feed a family of four in just 20 minutes with this Asian-inspired combo of chicken breast, veggies and sauces.
INGREDIENTS
2 pouches (each 250 g) BEN'S ORIGINAL™ BISTRO EXPRESS™ Whole Grain Brown Rice
2 Tbsp (30 mL) Vegetable oil
500g (1 lb) boneless skinless chicken breast, cut in 3/4-inch pieces
2 large red or yellow bell peppers, chopped
1 1/4 cups (300 mL) Chopped red onion (1 large)
2 cups (500 mL) Bean sprouts
1 cup (250 mL)Snow peas, cut in ¾-inch pieces
2 Tbsp (30 mL) Water
2 Tbsp (30 mL) Light soy sauce
2 Tbsp (30 mL) Fish sauce
2 Tbsp (30 mL) Sesame seeds
INSTRUCTION
1

In large nonstick skillet, heat oil over medium-high heat. Cook and stir chicken, peppers and onion 4 to 5 minutes or until vegetables soften and chicken is no longer pink.

2

Stir in bean sprouts and pea pods; cook 1 minute. Stir in water, soy sauce, and fish sauce.

3

Gently squeeze rice pouches, then stir into chicken mixture, heating about 2 minutes until thoroughly combined. Garnish with sesame seeds.
NUTRITION
DESCRIPTION AMOUNT PER SERVING
Calories 460
Carbohydrates (g) 51 g
Dietary Fiber (g) 7 g
Protein (g) 34 g
Sugars (g) 8 g
Total Fat (g) 15 g
Sodium (mg) 590 mg