RECIPE
Sweet and Sour Peach and Pork Stir Fry with Jasmine Rice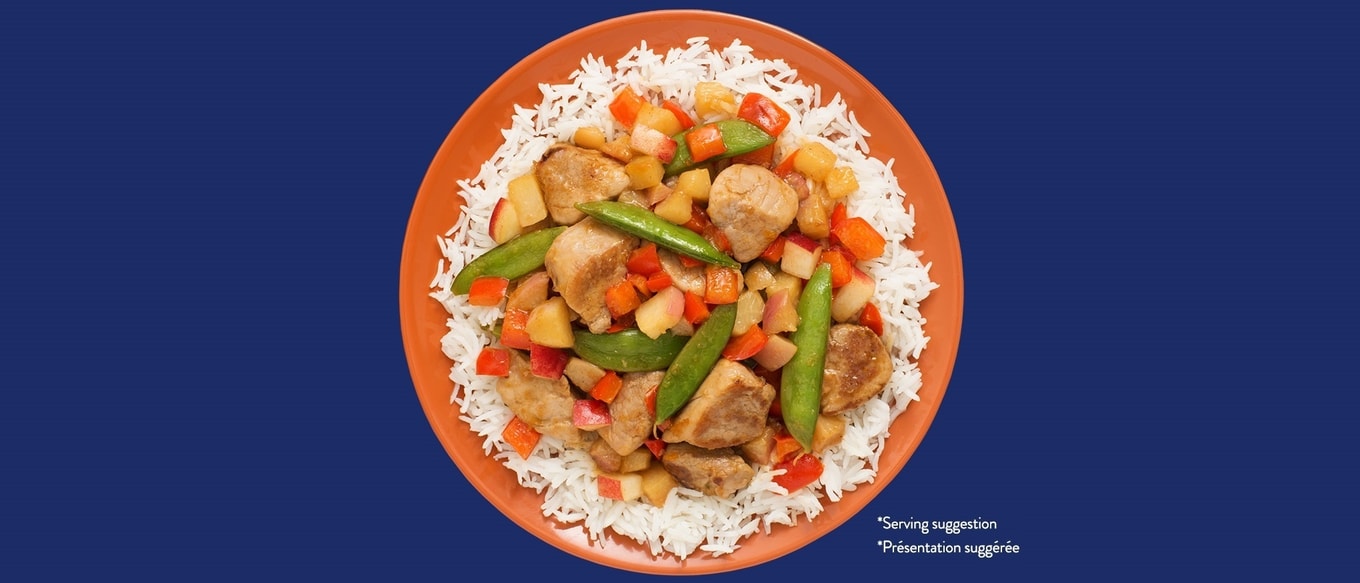 Sweet, sour and peachy. What more could you ask for in a stir fry? Combine sauteed pork, a few fresh veggies and BEN'S ORIGINAL™ Jasmine rice for the ultimate taste sensation – ready in minutes.
INGREDIENTS
1 cup (250 mL) BEN'S ORIGINAL™ Jasmine Rice
1 Tbsp (15 mL) Canola oil
12 oz (340 g) Pork tenderloin, cubed
3 cups (750 mL) Sugar snap peas
1 Peach, pitted and chopped
1 Red pepper, chopped
1/4 cup (60 mL) Chicken broth, low sodium
1 Tbsp (15 mL) Soy sauce, low sodium
2 Tbsp (30 mL) Rice wine vinegar
1 Tbsp (15 mL) Minced fresh gingerroot
1 Tbsp (15 mL) Apricot jam
1 tsp (5 mL) Sesame oil
1 tsp (5 mL) Cornstarch
1 pinch Salt
INSTRUCTION
1

Prepare rice according to package directions without butter.

2

In wok or large skillet, heat oil over high heat; stir-fry pork for 2 or 3 minutes or until browned. Add peas, peach and red pepper; stir-fry for 1 minute.

3

Whisk together broth, soy sauce, rice wine vinegar, ginger, apricot jam, sesame oil and cornstarch; stir into pan. Bring to boil; cook for 1 minute or until pork is cooked through and vegetables are tender-crisp.

4

To serve, spoon stir-fry over rice.
NUTRITION
DESCRIPTION AMOUNT PER SERVING
Calories 370
Carbohydrates (g) 51 g
Dietary Fiber (g) 4 g
Protein (g) 24 g
Sugars (g) 9 g
Sodium (mg) 310 mg
Total Fat (g) 7 g